LPA® 860-SS-080-VSD-EA-K65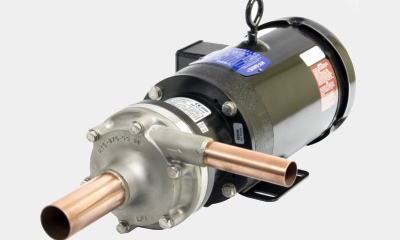 860-SS-080-VSD-EA-K65 | 4 to 30 GPM | Max Head 50 feet
A similar model without  the induction brazed K65 inlet and outlet connections or non VFD compliant the alternative would be the model most suited. 860-SS-50-STD-B –>> 3ph 208-230V/460V. 50/60hz, Standard motor no VFD, Pump is self unloading, meaning, if the liquid is being throttled by some form of throttle, hand expansion valve to reduce the flow. Unlike other pumps, this will cause a reduction in power absorbed by the motor due to characteristics of the LPA pump range. The alternative Model 860 without the VFD (VSD) and standard resistance to environmental corrosion for higher pressure systems in refrigeration would be the 860-SS-080-STD-B-K65 designed at 80 bar.   Model 860 is now in full production at higher operating pressures. The inlet and outlet connections are supplied in tubing K65 material. The motor can be supplied as fixed speed 50/60hz or variable speed with standard motors.
PS 1,160 psi / 80 bar
PT 1,660 psi / 115 bar
TS Min -22°F / -30°C
TS Max 160°F / +72°C
Inlet K65 ODF 1-5/8″
Outlet K65 ODF 7/8″
Motor Power .6hp (60Hz)
Voltage 208-230 /380-460
Ampere 2.2-2 / 1
Phase 3PH
Frequency 45 / 65Hz
Safety: Internal T/Stat.
REFRIGERANTS: (Fluid Type /GAS GROUP 1&2 /UL Recognized) Co2 R-290 R-134a R-401a R-401b R-401c R-402a R-402b R-404A R-407A R407b R-407c R-408a R-409a R-410A R-500 R-507 OUTDOOR PROTECTION IP43 | Altitude 2000M | Corrosive & Polluting Substance Class 4C2 | Vibration & Shock Class 4S2 | Presence of Dust Class 4S2 | Corrosion Protection Level Class IP43 B MAINTENANCE: Maintenance free, no service required. Manufactured to: DIR UKCA, 2014/68/EU "CE" CAT A2 \ UL Recognized \ Shipping Weight 55 lb's | Dimensions L 25″ x W 16″ x H 16″ \ Component Weight 50 lb | Dimensions L 17″ x W 14″ x H 10″ Mechanical Life Wet End Assembly +20 years | Mechanical life Impeller +100,000 continuous hrs | Mechanical Endurance +300,000 cycles. This pump can be supplied with Stainless Steel connections (Sch.10) albeit there would be additional machining time and welding qualifications and approvals according to the Notified Bodies PED, UKCA and UL.



NEED HELP? Click here for online help