LPA-875-SS-050-VSD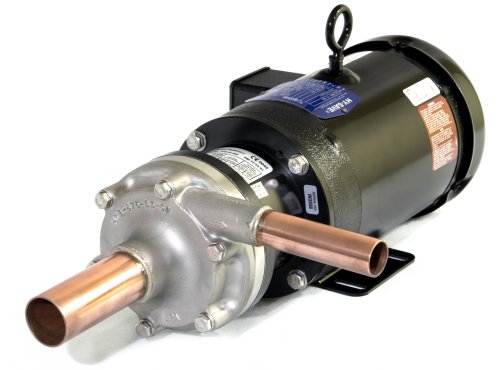 Nicknamed the work dog, now available with a high strength stainless steel housing to meet with pressures on demand. Built to stand up under heavy loads, LPA (Liquid Pressure Amplification) pumps, are equipped with built-in overload protection. Under adverse conditions, the magnetic drive acts as a clutch to eliminate overloading and motor burnouts.
The 875-SS-050-VSD (Variable Speed Drive) is now available with a high frequency drive compatible motor designed for continuous use up to 75hz if required.
PS 725 psi / 50 bar
PT 1,036 psi / 72 bar
TS Min -22°F / -30°C
TS Max 160°F / +72°C
Inlet ODF Copper 1-5/8″
Outlet ODF Copper 1-1/8″
Motor Power .75 hp
Voltage 208-230 /460
Ampere 2.4-2.2 / 1.1
Phase 3PH
Frequency 50 / 60Hz
Thermal Overload


REFRIGERANTS: (Fluid Type /GAS GROUP 1&2 /UL Classified)
Co2 R-290 R-134a R-401a R-401b R-401c R-402a R-402b R-404A R-407A R407b R-407c R-408a R-409a R-410A R-500 R-507
OUTDOOR PROTECTION IP54 | Altitude 2000M | Corrosive & Polluting Substance Class 4C2 | Vibration & Shock Class 4S2 | Presence of Dust Class 4S2 | Corrosion Protection Level ClassIP43B
MAINTENANCE: Maintenance free, no service required.
Manufactured to: DIR 97/23/EC "CE" CAT A1 / UL Recognized \ Shipping Weight 46 lb's | Dimensions L 25″ x W 16″ x H 16″ \ Component Weight 42 lb | Dimensions L 17″ x W 14″ x H 10″
Mechanical Life Wet End Assembly +20 years | Mechanical life Impeller +100,000 continuous hrs | Mechanical Endurance +300,000 cycleshanical Endurance +300,000 cycles
5 Responses to " LPA-875-SS-050-VSD "


NEED HELP? Click here for online help