Co2 Liquid Refrigerant Pump & LPA Economizer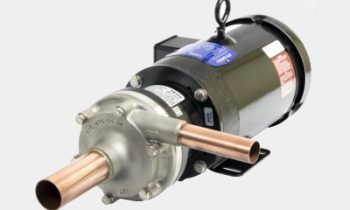 The LPA® pump is an open-drive sealed unit with important design features: The impeller floats in a revolving magnetic field and is the only moving part. The magnetic flux is supplied by an external motor with a magnetic coupling device. The external placement of the motor eliminates any additional heat back into the system.
In addition recent development and method to eliminate pump cavitation under unfavourable conditions is now referred to as the "LPA Economizer". The LPA Economizer provides an artificial head of liquid (back-pressure) on the pump suppressing all forms of cavitation. The LPA® Economizer is an addon, off the shelf, parts, and components thanks to Inventor Mr. Kim of HY-SAVE (Asia)-June-23. Recommends including the economizer circuit in refrigeration circuits for enhanced operation.
Standard variations are available at 50, 60 , 80 bar design operating pressures.
Contact us for further details or by following this link Contact
One Response to " Co2 Liquid Refrigerant Pump & LPA Economizer "


NEED HELP? Click here for online help