Low lift liquid refrigerant pump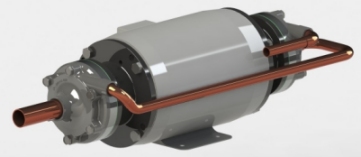 "Initial testing and performance of the 820-DS™ liquid refrigerant pump far surpassed all expectations  in dual stage technology low / high lift applications for both compressor de-superheating, superheat suppression or liquid injection  cooling technologies provided.
The 820-DS (Dual Stage) is a high head low NPSH fractional horse-power (0.33hp) liquid refrigerant pump that is self-unloading and unique in design. The heat generated by the dual stage motor and magnetic flux is dissipated outdoors rather than into the fluid being pumped greatly reducing cavitation concerns.
The smaller 809-DS (Dual Stage) is now available with a dual stage 0.13 hp motor for compressor cooling applications.
The LPA® pump range combined has more than 420 million hours of operation in a full time refrigeration environment and continues to provide unrivalled reliability and efficiency in thousands of applications world-wide over the pasts 40 years. HY-SAVE® recommends that technicians, engineers or end uses designing or implementing the 820-DS work closely with them in any application design whether that be for Co2 DX re-circulation or Liquid Pressure Amplifier systems

5 Responses to " Low lift liquid refrigerant pump "


NEED HELP? Click here for online help