DXFC™ Split Type Air Conditioner, COP 50:1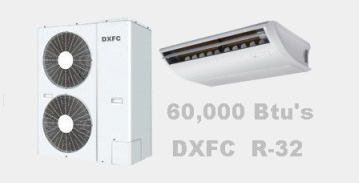 DXFC™ – Split Air Conditioner 48,000 to 60,000 Btu's. View data sheet.
Note, these split type AC units are not similar to other units that have compression cooling power. Heat transfer is achieved by circulating a working fluid between two heat exchangers operating at different latent absorbtion/rejection heat phases and therefore would need a minimum of 2K differential in boundry areas for heat exchange to occur.
COP (Coefficient of Performance) Up to 50:1  0.35kW of electrical consumption removes 17.5kW of electrical heat, suitable for data centers, office server rooms and other areas of intense heat extraction for less cost.
One Response to " DXFC™ Split Type Air Conditioner, COP 50:1 "


NEED HELP? Click here for online help