Next Generation Floating Head Pressure Control with DXFC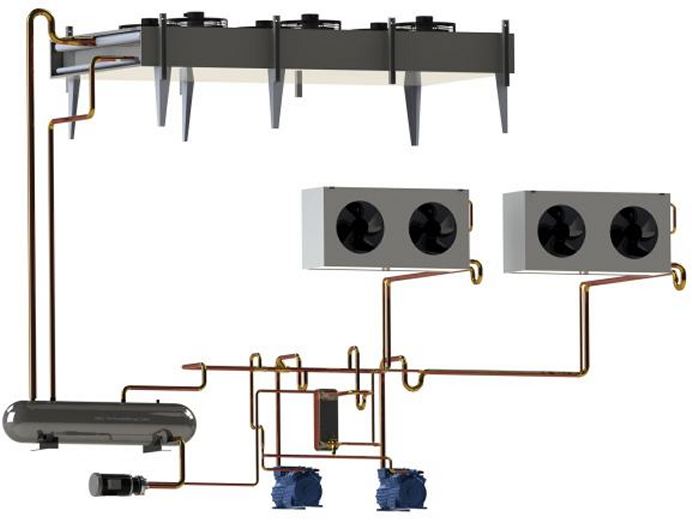 Introducing the next generation floating head pressure technology that provides efficiency throughout the year. Unlike traditional floating head pressure systems with head pressure controls set to minimum, the DXFC™ floating head pressure system has no limit which makes it a truly floating head pressure system without the additional cost of head pressure control valves that limit the condensing pressure and efficiency.
In Northern geographical areas, outdoor temperatures are sufficiently low enough to provide refrigeration without the use of vapor compression and higher energy bills.
The transition phase between turning system compressors off and initiating the DX economized (free cooling) circuit depends on the refrigeration system and geographical location. In Northern territories when outdoor ambient temperatures reach 20F or lower, fresh produce, meats and dairy refrigeration compressors are generally cycled off and the thermosiphon process continues to provide DX economized free cooling. Lead compressors operating during the transition phase would usually employ a common discharge differential valve set to maintain the OEM's minimum allowed compressor pumping differential.
The design includes a standard liquid refrigerant receiver that is connected directly to an outdoor air cooled condenser which acts as a cascade condenser over a wide rage of outdoor operating temperatures. The air cooled condenser fans control and maintain a preset condenser TD that tracks outdoor temperatures ranging from 120F to 0F. During normal running conditions, the liquid leaving the receiver is sub-cooled to 50F or 20F whichever is preferred, but during low ambient conditions, the liquid in the receiver is sufficiently cold enough to provide refrigeration without vapor compression or sub-cooling assistance which is known in the industry as DX free cooling or DX economized cooling.
2 Responses to " Next Generation Floating Head Pressure Control with DXFC "


NEED HELP? Click here for online help