Refrigeration on Demand – Auxiliary Thermal Storage Option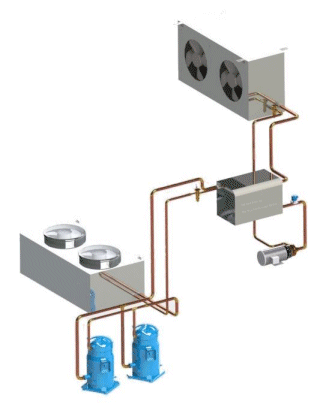 DXTS™ The Auxiliary Charging Method
Refrigeration on Demand™ | The Thermal Storage Option | (TES) Thermal Energy Storage…
Refrigeration on demand – less energy usage by day (Non Vapor Compression Technologies)

Installed into the existing refrigeration circuit.

Efficient cascade style thermal energy charging and storage

Simple charging by night – more efficient battery charging during cooler night time temperatures

Battery condensing temperatures maintained at 15F annually – when during the day it is 100F outdoors

Existing liquid lines operate at evaporating pressures – refrigerant loss reduced due to less pressure

Can be converted to Co2 with Nh3 driven storage

Good for the environment and economy – projected saving impact on the environment
Newly introduced DX Thermal Storage and proven DX Free Cooling combination provides a new energy saving cooling technology for DX vapor compression type refrigeration systems.
 DXTS technology is about storing and shifting cooling energy for periods of time usually up to 12 hours then used when vapor compression is too costly or inefficient to operate, especially when it is 100F outdoor temperatures, compressors and condensers are best switched off.
 The DXTS unit is available either inline or auxiliary charging methods apply. The auxiliary charging method shown above offers a choice of two refrigerant blends in cascade communication with each other charged by an external refrigeration circuit. The inline DXTS unit is charged by its own refrigeration unit.
 The DXTS prototype freezer module; 1 m3 provides approximately 10kw @-30C for 12 hours or 14kw for 8 hours of refrigeration demand. The outside aluminium framework is designed for stacking to match system capacity.

One Response to " Refrigeration on Demand – Auxiliary Thermal Storage Option "


NEED HELP? Click here for online help