Water Cooled Condenser with LPA® Pump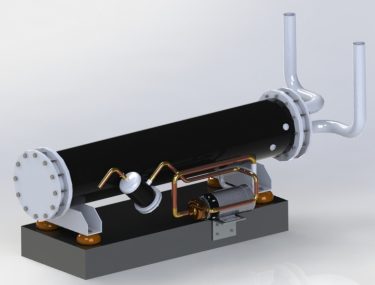 Many thousands of LPA® pumps have been installed in this configuration that guarantees a good supply of liquid to the thermostatic or electronic valves when the condensing pressures are low to improve the efficiency of the refrigeration plant.
Often during winter conditions, it is difficult to maintain a good supply of liquid to the expansion valves;
Without a good supply of liquid to the expansion valves, evaporating capacity reduces often leading to compressor short cycling and higher energy bills especially during the cooler periods.
Additional benefits include Liquid Injection, a process that de-superheats the discharge vapor prior to entering the water cooled condenser. With this in place, the discharge vapor temperature is greatly reduced by approximately 50 degrees (100F), well below that of which scale can form within the water cooled shell.
As a result, new condensers are kept free from scale and existing condensers often need cleaning to remove scale due to thermal contraction after liquid injection is applied.



NEED HELP? Click here for online help